Meet the Team
I am very proud of each of the members of my staff that make up my dental practice. They are talented, caring and willing to go out of their way to help patients have an excellent dental visit. They set us apart from others in the industry. I look forward to introducing each of them to you and to telling you a little more about myself.
Dr. Joseph Laudie
---
Meet Dr. Joseph Laudie, DDS
Dr. Laudie is the 6th of 7 children. He is a native to Kansas and went to dental school at the University of Missouri Kansas City. He went on to receive advanced training, including implant and IV sedation, while at the Ohio
State University School of Dentistry, graduating as one of the top residents. Dr. Laudie enjoys dentistry and helping his patients have a comfortable and enjoyable dental visit. He goes out of his way to make sure that his patients know he cares about them.
Dr. Laudie is a member of the American Dental Association, American Academy of Implant Dentistry, and the Academy of General Dentistry. He loves life-long learning and pursues continuing education to bring the latest that dentistry has to offer to his practice, team and patients. Dr. Laudie is pleased to be a certified provider of Invisalign orthodontics– the clear choice to braces.
Dr. Laudie is very involved in community service and outreach to bring dentistry to
those who are less fortunate. He attends the Kansas Mission of Mercy Dental event every year, provides services locally and goes to Honduras every two years to provide dentistry to the less fortunate. Additionally, he and his team work with several local events to provide screenings, toothbrushes and toothpaste to children. Visit our community outreach page (make a hyperlink out of the word community) to see the latest projects Dr. Laudie has been involved with to bring care to those here in the state of Kansas and beyond.
Dr. Laudie is married and has a family. His wife, Tara,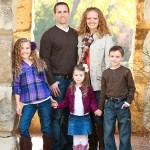 holds a bachelor's degree in piano performance and she plays the violin in the local Emporia Symphony. When Dr. Laudie is not helping people improve their oral health, he enjoys spending time with his wife and his 4 children. His children, Kaitlynn, Jonathan, Adalynn, and Breelynn are his pride and joys. Dr. Laudie is fluent in Spanish, having lived in Guatemala for 2 years. He also enjoys gardening, camping, biking, hiking, and fishing. Dr. Laudie raises bees and is a member of the emporia ham radio club.
---
Meet the Rest of Our Team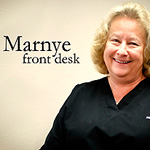 Marnye has been in the dental field since 1996; she has been our dental assistant since 2000 and recently took over the front desk duties in 2010. Marnye is great with people and can get anyone to smile. She loves to make the dental office a friendly place to be. She has 2 children and 2 grandchildren.
---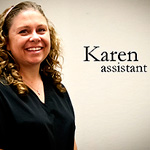 Karen has been a dental assistant since 1996. She enjoys all the different procedures we are able to offer to our patients and seeing the advancements that have been made in the field of dentistry. She has 3 children and a grandson. She enjoys going to auctions with her husband, camping with her son, shopping with her daughters and just hanging out with her family.
---
---
Peggy moved here from the Wichita area and has several years of accounting experience. In her free time she enjoys baking, catering on the weekends and is in the process of training for a half marathon. Friends and family are important to her so she spends time with them as often as possible.
---
---
Jenny has been a dental assistant since 2008. She graduated from Flint Hills Technical College with a certificate in Dental Assisting. Jenny enjoys being a dental assistant so she can help patients get the best dental care they deserve. Jenny also makes it her goal to help patients overcome their fear of dentistry because she used to have dental anxiety. Jenny lives in Neosho Rapids, KS with her husband Tanner and two dogs Morgan and Paisley. Jenny enjoys reading, scrapbooking and spending time with her family.
---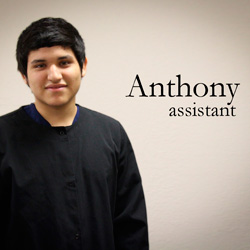 Anthony was born and raised in a small town called "San Pedro" in Ecuador. When he was 11 years old, his father moved his mother and brother to the United States to give them a better life. Anthony attended Emporia High School, where he graduated with honors. He attended Flint Hills technical college and received a degree in dental assisting. He loves helping people and making friends. He loves working alongside Dr. Laudie and the staff.
---
Back to Top